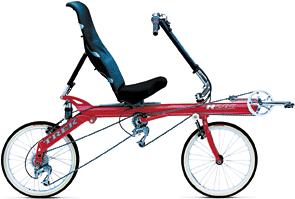 Trek R 200 Recumbent Bike (no longer available)
In 1999 Trek Bicycles introduced their rear suspension SWB OSS R-200. With as fat a tube as I've ever seen on a single recumbent they were unique to say the least. They are comfortable bikes due to the rear suspension and the legendary RANS seat. Not fast or real easy for a beginner to get used to they didn't sell well for TREK. Most TREK dealers didn't know anything about recumbents and I think that was a large part of the problem. We stocked a few of them but most customers preferred the similarly priced (and faster) RANS V-Rex.
TREK abruptly discontinued The R-200 was in 2001 and a Midwest dealer bought the 60 or so remaining bikes and sold them off over the Internet at below wholesale, angering any TREK dealers who still had one in stock. TREK Inc subsequently sold off the parts they had which were intended for warranty claims. If you have a TREK R-200 don't expect TREK to have R-200 parts or accessories left to help you. Don't get mad at your TREK dealer, it's not their fault they can't help you.
We have a few TREK R-200 parts in stock for sale if you need them: Seat upholstery, seat pads, seat pad covers, and seat back mesh. Most wearing parts like Chains, brake pads, cables, tires and tubes were not made by TREK so replacements are pretty easy to find.
If you like the looks of the TREK recumbent check out either the Linear Roadster with the OSS option or RANS Rocket. These 2 bikes have 20" front and 26" rear wheels and the great RANS seat, the best part of the Trek R-200.
---