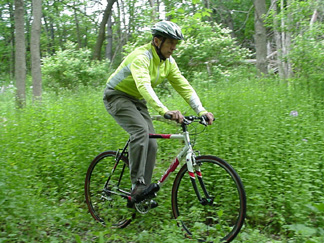 KEITH GREGORY TAKES SECOND AT CYCLING NATIONALS
Keith Gregory of Alfred took second place at the USA Cycling National Cyclocross Championships on Friday Dec. 12. This years event was held in Portland, OR where the weather was rainy and in the 40's; perfect Cyclocross weather.
Cyclocross is a cycling event that is best described as a combination of road and mountain bike racing that takes place in the fall and winter to take advantage of wonderfully crappy weather. Gregory's age group, men over 55 years, had a field of 16 starters, many of whom were regional champs from all parts of the US.
Shortly after the starting gun, Gregory, sponsored by the Bicycle Man, and James Wagner, a cardiologist from the Seattle area, pulled away from the other riders and the battle for first began in earnest. For another 20 minutes the lead changed back and forth as the two old men challenged each other in a contest of wills and, ultimately, it was Gregory who cracked. Wagner, who is the current World Mountain Bike Champion, went on to win with a 1:14 margin of victory. Gregory came in with a lead of over 1:34 ahead of the third place rider.
NOTE: Fuji does not allow their dealers to ship new bikes to customers.
Therefore ~ If you are too far from Alfred Station NY for you to visit us in person and pick up your bike we ask that you please find a Fuji dealer in your area. We will not answer emails asking us to ship a new Fuji; please don't waste your time by asking us to make an exception. We can not and will not ship a Fuji bike.
---
---