The Ice "T", "Tnt", "Q", and "Qnt" were discontinued late in 2009 and replaced by the new Ice Adventure and Sprint.
These new, improved Ice trikes are described on our Ice Recumbent Trike page.

ICE Trice T and Trice TNT Tadpole Recumbent Trikes / Tricycles ~ ICE Inspired Cycle Engineering
An ultra-comfortable touring recumbent trike now with rear suspension and folding as standard.
Trice T ~ A Trike Design with Pedigree
The Trice T is a sedate and refined touring trike from ICE. Its frame is based on the ever-popular Trice Explorer. The Trice T shares the same high seat as the Trice Explorer making it easy to get on and off. Carefully chosen components and meticulous attention to detail in the construction of the part steel part aluminum frame make this trike unbeatable value for money.
What is this trike about?
The T in Trice T stands for Tour and this trike is an excellent choice for cruising along on your favorite trails. The T maneuvers easily and the rear suspension is fantastically comfortable on uneven pavement. It is very unlikely you will have ever ridden in such comfort and this machine will put a smile on your face every time you ride it.
How comfortable is the Trice T?
The super-breathable mesh seat has lumbar and shoulder support to provide day-long comfort. This seat gives great support to your back and the angle adjustment of the seat ensures your neck and spine will not feel the strain of a long days cycling. Long rides are much more enjoyable if you are comfortable, and lunch at that beautiful viewpoint is much nicer if you already have somewhere to sit.
The Trice T Boasts big ground clearance with aerodynamic performance
If you are looking for a machine with the T's specifications, but with a hard shell seat, the Standard ICE hard shell can be fitted to the Trice T. This seat has even more angle adjustment so you can ride sat up or very reclined.
Trice TNT Narrow Track Option
The Trice T is also available with a narrow track option. This model has a front track 4″ (10cm) narrower than the standard track which can really help if you regularly need to squeeze through narrow gaps or want to store the trike in a smaller space.
The narrow track option does reduce the stability of the trike so this option is not recommended where high stability is the priority. It is still possible to ride fast through corners but a little more body leaning will be required.
The narrow track also reduces the maximum cockpit width between the handlebars and so is not recommended for heavier riders. On the other hand, if you are a smaller person, a steady rider and prefer the higher seat then this could be your ideal choice. We even offer short cranks and the FF bracket which moves the seat forward in relation to the cross axle for very short legged riders.
Easy Storage and Transport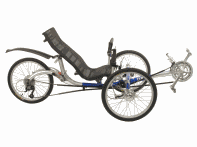 When you are not riding, the Trice T can be separated and folded down to a convenient size for easy & secure transportation and storage. If the higher seat of the Trice T and storage and transport are a top priority then do consider the Narrow Track option for the T.
The Trice T features:
Easy to get on and off
Tunable rear suspension
Separates and folds tool-lessly
Big, 7"(17.7cm), Ground clearance
Loads of angle adjustment for the Seat
A choice of two seats
Available in Two track widths
20" wheels all round
Drum brakes or Hydraulic Discs
Mesh or hard shell seat
Sky blue sparkle powder-coat finish
Price includes a Rear Mudguard (fender), a mirror, a flag, and a full set of chain tubes to keep the oil on the chain and off of you.
A great range of accessories are also available from ICE for the Trice T, so you can select from the list of extras to enhance your machine.
Trice T 2008 Specifications
The Trice T is only recommended for riders of body weight up to 252 lbs, (18 st., 114 kg).
Overall Width 34.6″ (88 cm), 30.6″ (78 cm) for the T Narrow Track
Overall Height (depends on recline of seat) 29.5″ (75.0 cm)
Overall Length ( Approx. for 6′ rider) 74″ (188cm)
Front Track 31.5″ (80 cm), 27.5″ (70 cm) for the T Narrow Track
Wheelbase 39.4″ (100 cm)
Turning Circle 15'1″ (4.6m) diameter
Seat Height 12.5″ (31.7 cm)
Seat Back Angle (adjustable – 3 steps) 42 – 49 Deg
Bottom Bracket Height (approx.) 15″ (38 cm)
Ground Clearance 7″ (17.7 cm)
Approx folded / dismantled size (NT) Length 44.9″ (114 cm), Width 24.8″ (63cm), Height 17.7″ (45cm)
Weight without accessories or pedals from 37.3lbs (16.9Kg)
Wheels 20″ (406)
Tyres Schwalbe Marathon Racer 20″ x 1.5″ all round
Gear shifters SRAM X9
Brakes Sturmey Archer front Drums
Chainset Truvative Firex 26/36/48
Front Derailleur SRAM X9
Rear Derailleur SRAM X9
Cassette Sprocket Custom 9-32 9 speed
Gear Range 15.7″ – 103.5 " (1.255m – 8.28m)
Trades Description Act 1968. The manufacturers reserve the right to change the description and specifications to improve the product. Ask for the latest information.
Then there is the ride quality of each. Come try both and decide for yourself!
---
---