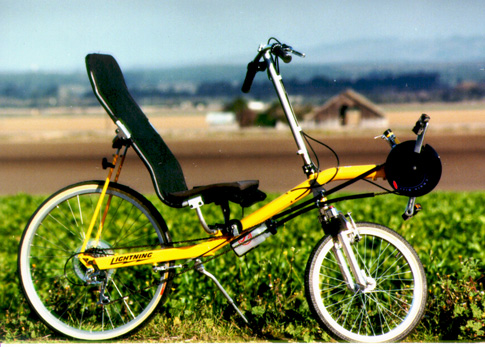 Lightning Thunderbolt Recumbent Bicycle
The Thunderbolt was the least expensive bike from Lightning. It was a bike built to fit most everyone's budget. It shared the high-performance geometry (but not the lightweight) of its "big brother," the Phantom. The Thunderbolt has a higher seat for the more casual/ less experienced rider giving it a slightly less aggressive rider position. The seat could be modified to put it near the same height as the Phantom and P-38.
The Thunderbolt's bottom bracket is stiff and its seat comfortable as on all Lightning bikes. The Thunderbolt was the only SWB in its price range. It was among the quickest and best climbing recumbents in its price range, too. At ~30 lb. It was no racer but a good bike for exercise, touring and commuting.
Note: As of spring 2005 The Lightning Thunderbolt is not in production. We do not have any left in stock as they have been permanently discontinued.
If you were planning to buy a Thunderbolt I'd suggest looking at the
Burley Django
or
RANS Rocket
instead. Both are similar SWB OSS bikes under $1200.
---
---