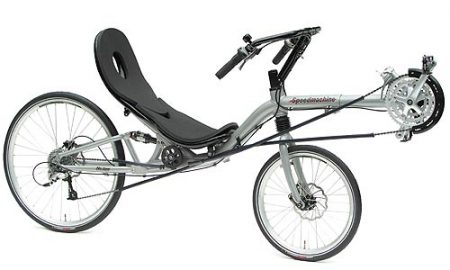 HP Velotechnik Speed Machine Recumbent Bicycle
The Speed Machine is a low racer recumbent with dual hydraulic disk brakes, full suspension and a well-padded carbon seat for folks who want to go fast without giving up comfort. At 35 lb it is a bit heavier than non-suspended (without suspension) low racers. It is the most comfortable low racer I have ridden. The suspension is well designed. It gives a plush ride but does not adversely affect your hill climbing performance.
One example of this bikes innovative detail is the way the seat recline adjusts. On most recumbents, adjusting the seat recline angle changes your effective leg length setting and you have to readjust that too. On the Speed Machine, this is eliminated. This adjustment is done with two quick-releases: one under the seat bottom and one under the back. You can raise the seat angle, like for a long climb, and later lower it for the decent without readjusting for leg length. The seat is very comfortable in both positions. I found even with the airflow seat pad I got a bit sweatier than I would on a mesh back seat.
The no squat suspension does an admirable job and does not adversely affect hill climbing. The Speed Machine climbs well for a 35 lb bike. Its high-speed handling is solid and confidence inspiring, low-speed handling is good but not great. Maneuvering on trips to the convenient store may sometimes be inconvenient.
The forward handlebar position stretches your arms out for improved aerodynamics, not my favorite comfort position. Both handlebars need to be adjusted to not hit your legs or interfere with your line of sight. The rearward handlebar position may be a bit comfier but makes entry and exit a bit gymnastic and can be harder to position away from your knees.
For its price range, this is a pretty heavy bike. It weighs ~10 Lb more than the Lightning P-38, but the Lightning does not have suspension or disk brakes. The lightning is a faster climber; the Speedmachine is faster on flats and descents. Riders will disagree which is more comfortable; we will each have our favorite.
HP Velo Owner's Manuals
Street Machine GT Owners Manual (January 2008 version, PDF Format, 624 KB)
Street Machine GTe Owners Manual (January 2008 version, PDF Format, 600 KB)
Grasshopper FX Owners Manual (February 2008 version, PDF Format, 676 KB)
Speedmachine Owners Manual (January 2008 version, PDF Format, 673 KB)
Spirit Owners manual(January 2008 version, PDF Format, 1021 KB)
---
---