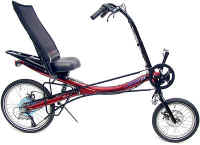 HP Velotechnik Spirit Recumbent Bicycle
The HP Velotechnik Spirit is a great first recumbent. Like most CLWB OSS bikes it is easy to get used to and great for around town riding. Its upright seating and stable handling make it good in traffic. The rear suspension makes the potholes on your commute less harsh. Its stability, maneuverability and upright seating position make it a good recumbent for riding in traffic.
It reminds me of a BikeE AT but with better handling and suspension. It's natural, relaxing position puts you in a heads up stance where you can see and be seen well in traffic. It is not a race bike but is a great comfort, exercise or commuter recumbent. When the Spirit seat is moved forward it gets lower to the ground. This is great for shorter riders, a nice feature.
We typically stock the Spirit so our customers can try one before they buy one. It's a good idea to check our current inventory before driving if this is a bike you want to try.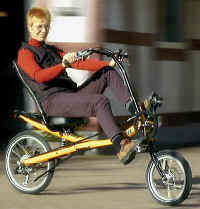 HP Velo Owner's Manuals
Street Machine GT Owners Manual (January 2008 version, PDF Format, 624 KB)
Street Machine GTe Owners Manual (January 2008 version, PDF Format, 600 KB)
Grasshopper FX Owners Manual (February 2008 version, PDF Format, 676 KB)
Speedmachine Owners Manual (January 2008 version, PDF Format, 673 KB)
Spirit Owners manual(January 2008 version, PDF Format, 1021 KB)
---
---