Ice Sprint
In 2010 Trice replaced their Q model with the new Sprint. Both are lower, sportier and faster than the old Ice T/new Ice Adventure trikes. The Sprint is available with 20" rear wheel, no suspension; 20" rear wheel with suspension; and 26" rear wheel with no suspension. The trikes with 20" wheels have lower gears for climbing than the slightly faster 26" wheel version. All Ice Sprint models have the Ice compact flat twist frame.
The ICE Sprint Folding Recumbent Tricycle
The Ice Sprint's handling is very good. High speeds are easily controllable, low-speed handling is fine but the u-turn circle is quite large. Brake steer is moderate. Pedal steer is minimal too. Being lower than the Adventure it will turn sharper/faster without tipping over. It also has less ground clearance which could affect your riding on some dirt roads or maybe urban obstacles like speed bumps.
The Sprint is available in four configurations. In ascending price they are 20" rear rigid; 26" rear wheel rigid; 20" rear with rear suspension; and as a fully suspended trike with short travel elastomer absorbers front and rear. You can't have an Ice trike with a 26" rear wheel and suspension, sorry.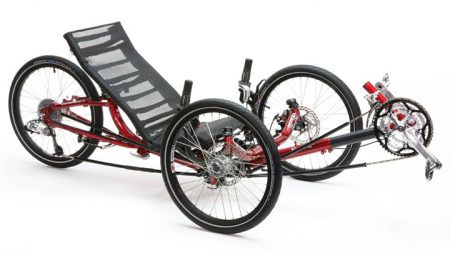 Sprint 1 20"
This is the entry level Sprint. Without their rear suspension, it's a bit lighter weight and lighter on your wallet too. This is a fine little trike, good high-speed handling, fine low-speed handling but u-turns can be tough as its turning radius is pretty large.
Sprint 20" with suspension
The Ice rear suspension is only available with a 20" rear wheel. It is a well executed but simple elastomer system. It works well on smaller bumps and road vibrations. It's not an off-road/large hit system which is fine because the Sprint does not have the ground clearance for that type of riding. Riding the suspended Sprint you can forget it has suspension. It is silent, no squeaks or rattles. Climbing it doesn't bob and suck your energy.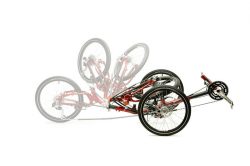 Ice Sprint 26
The Ice Sprint replaces their Ice Q. It is lower than the Ice Adventure. Equipped with the optional 26″ rear chainstays and wheel it is a tough competitor for the Catrike Expedition and TerraTrike Tour 26. The Sprint's handling is very good. High speed is easily controllable, low speeds are fine but the u-turn circle is quite large. Brake steer is moderate. Pedal steer is minimal too. The 26" rear wheel makes it a bit faster than the 20" – but you can't have 26" and rear suspension on the same trike, sorry. Bumps aren't as noticeable on big rear wheel trike; especially small bumps like the rough pavement texture of a chip seat, oil stone country road.
This trike will be compared to the Catrike Expedition a lot. Both have 26" rear wheels and are about the same price. That is where the similarity ends. The Ice is an indirect direct steer, the Catrike is direct. The Catrike is a bit lighter but lacks the Sprint 26's quick fold frame joint and the Ice's adjustable seat recline.
Ice Sprint FS
The Sprint fs has suspension on all three 20" wheels. Aside from adding a few pounds the suspension does not slow this trike. It's not a racer but it cruises along well. With 4″ of rear travel and 1.57″ of front travel it takes the edge off bumps making it even more pleasant for all day riding.
The Sprint FS is available in two component groups, the Sprint 2 fs with twist shifters add cable actuated front drum brakes and the Sprint 3 fs with bar end shifters and hydraulically actuated front disk brakes. Some love hydraulic brakes, they work great and are very low maintenance. Some hate them; they can leak fluid and require special tools and parts if maintenance is required. The 3 is not available with mechanical disks and cannot be converted to mechanical disk brakes.
---
---