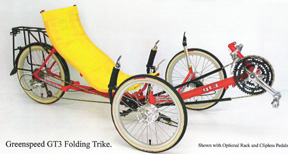 The GT3 Folding recumbent trike is the economical foldable commuting trike developed by Greenspeed, the best-known name in tadpole trikes. As the 3rd incarnation of the GT commuter trike, it brings the Greenspeed reputation to a new economical price never seen from them.
Greenspeed GT3 Folding Recumbent Tricycles
The GT3 is built from the ground up as a compact, economical and foldable trike. It is more than a GTR frame with less expensive parts. In order to cover the full range of trikes, from entry level through elite Greenspeed wanted a trike at a price point much lower than their other models. After pooling ideas from comments made by recreational and commuting GTO and GTR owners they decided people wanted something that was not just less expensive but that would fit through doors easier and break down faster to fold into a small space.
They started with 16″ wheels all round and a new folding mechanism that is both quicker and less expensive than the S&S Coupling. Then they developed a stud & elastomer mechanism for the rear of the seat that only requires one bolt at the front of the seat. A simple change of the Crank boom adjustment bolts to M8 and only one alley key is needed to fit the trike into your car's trunk you by removing the seat and folding the frame. The same Allen wrench allows you to also remove the front wheels and crank boom and adjust or fold the Handle Bars.
Folded GT3
The GT3 Folding Trike is a good trike for riders who want to fold it to carry in the trunk of their car on the way to their favorite riding spot or in their Camper for rides while on holiday. It is also good for riders with limited space at home or at work. The GT3, GT-5, and GT-X are the easiest Greenspeeds to fold.
They are one size fits most designs, the x-large, and x-small rider may have trouble fitting one well. Riders who weigh over 265 lb need a heavy-duty trike and should look at GTO instead of the GT3.
The Greenspeed GT3 is:
By Greenspeed, the best known name in tadpole trikes.
Chromoly steel
Easy to fold making transportation, shipping or storage easy.
Has indirect steering. Many riders find this easier to get used to, especially at high speeds
Has a 10-year frame warranty for riders up to 265 lb.
37.5 lb
Shipping to you is available but extra. (Email your zip code for shipping quote.)
The GT-5 uses the same folding frame with upgraded components.
The GT-X is an Australian made performance oriented folding trike.
GT-3 specs
Track
29.5″ (75 cm)
Width
32.7″ (83 cm)
Wheelbase
39″ (98 cm)
Length
69″ (175 cm)
Height
27″ (68 cm)
Turning circle
12′  (3.7metre)
Seat Angle
40 degrees
Seat Height
10″ (25 cm)
Ground clearance
2.6″ (7 cm)
Wheels
16″ x 1 3/8″ (37-349) alloy rims
Spokes
Wheelsmith stainless steel
Tyres
Primo Comet 16″ x 1 3/8″, 80 psi
Brakes
Sturmey Archer Drums
Gears
27 speed – Shimano Capreo
Cranks
Shimano Tiagra 52/42/30
Rear Cluster
9 speed, 9,10,11,13, 15,17,20,23,26.
Gear Range
19 to 95 inches
Frame
TIG welded Cro Mo 4130 tubing
X-seam range
41″ to 49″
Steering
Centre point Ackermann with inclined handle bars.
Weight
37.5 lbs (17kg)
Standard fittings
Frame hinge, Rear fender, Mirror, Safety Flag
Note – specifications are subject to change
---
---